Avril Lavigne has spoken out to defend her 'Hello Kitty' music video from critics after it received an overwhelmingly negative reaction.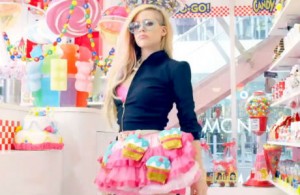 The Canadian star premiered the vid on her official website earlier this month, sparking widespread criticism – including claims that it is racist for its portrayal of Japanese culture.
"RACIST??? LOLOLOL!!! I love Japanese culture and I spend half of my time in Japan," she tweeted today.

"I flew to Tokyo to shoot this video specifically for my Japanese fans, WITH my Japanese label, Japanese choreographers AND a Japanese director IN Japan."
YouTube have blocked the video from appearing on the site, and it's not clear if Lavigne ever planned to release the track in other territories.