Cristiano Ronaldo has made his female fans' dreams come true by posing naked on the cover of Vogue – but broken their hearts by appearing with his girlfriend!
Irina Shayk stands in front of the footballing giant on the cover of the Spanish edition of the fashion bible; handily covering his modesty in a wedding-like gown.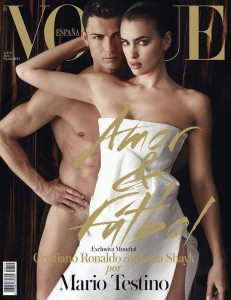 The shoot follows Kim Kardashian and Kanye West's appearance on the front of the US edition of the mag; with Kim also in a dress that looked a great deal like a bridal outfit. Kanye, however, was not naked!
Elsewhere in the photoshoot, Ronaldo is seen lying shirtless on a rug, pulling down Shayk's trousers as she lies intimately on top of him.
He is also shirtless in a third snap, wearing a tight pair of white trousers. He has a busy week of preparations ahead – as he will take part in the Champions League final between Real Madrid and Atletico Madrid this Saturday (May 24).