Miley Cyrus seemingly made a massive swipe at Liam Hemsworth in a rant on-stage in London.
The singer played at G-A-Y during her trip to the UK, and has been quoted sounding off at someone who seems to be her former fiance – from whom she split last September.
She said:
"Every time you get in your car, you're going to hear my f**king song on the f**king radio, you piece of s**t. That's right.

"And then I'm gonna take all my clothes off, I'm gonna sit on a big, giant d**k — sometimes two— I'm gonna swing around, and then I'm gonna hold the record for the most-watched music video on Vevo."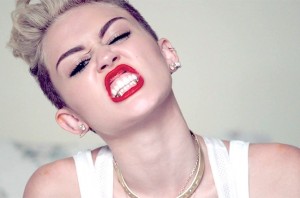 She went on:
"So then — you know, you can tell a lot about a person — I think you can tell how big their d**k is by how much confidence they have usually, and if I was a dude I'd probably have a really big d**k, 'cause I feel really good about myself now.

"So I'm gonna tell those motherf**kers that broke my heart, particularly one, to suck my fat d**k and to enjoy hearing this song for the rest of your life."
She then launched into a performance of 'Wrecking Ball'.
Oh dear!