Tonight's first Britain's Got Talent semi-final proved particularly dramatic when Alesha Dixon emptied her glass of water over David Walliams.
The comedian had made a joke about Alesha allegedly miming in her days as a popstar, prompting her to soak him.  Walliams denied that his Golden Buzzer act Christian Spridon was a poor singer; insinuating that Dixon had based her career on lip-synching.
"I am speechless. If it wasn't for all the dancers, I probably would have buzzed you too. It was so out of tune, it was ridiculous. It didn't work for me but it was so much fun," she had told Spridon.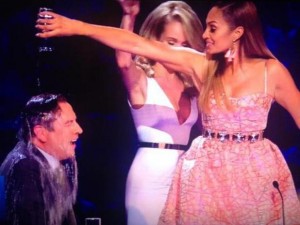 After Walliams' jibe, she retorted:
"You are barking up the wrong tree! I don't mime!"
Walliams ended up getting soaked twice more on Britain's Got More Talent when viewers phoned-in asking for Alesha and Amanda to soak him again.
Dixon is tipped to jump ship from BGT and join The X Factor later this year.