Amanda Seyfried has identified her favourite quote from hit teen movie Mean Girls, in which she starred.
Speaking to Digital Spy, she said:
"'If you're from Africa why are you white?' is the best line ever!

"I feel so lucky to have been in the movie, it was a lucky break for me because it was that or college. Luckily Mark Waters took a chance and hired me in my first ever movie, and I had no idea what I was doing!

"But the lines were written so perfectly I didn't have to worry."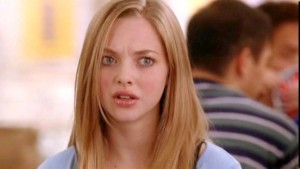 Speaking more about her character, Karen, she added:
"God, she's so dumb! So blissfully ignorant, it's so fun to play that."
And pressed on the possibility of a reunion – like in a skit for Saturday Night Live – she said: "That would be so fun, doing like an SNL skit. I would do that, but I would fear that it wouldn't be funny! What if it wasn't funny? The mystery is that the idea of it is sometimes better than actually following through.
"If Tina [Fey]'s not on board then I don't think we should because that was designed by her, and it would have to be designed by her again. It was great, though, for all of us. Such a good experience."