Robert Kirkman, the creator of The Walking Dead, has said he would love to have Mad Men's Jon Hamm to play Negan.
Negan is the primary antagonist in the comic series from which the HBO show takes its cues, and has not yet been seen on-screen.
When the suggestion was put to him by MTV, Kirkman mused:
"He's not tall enough! That's a joke. I think Jon Hamm would be perfect.

"I think after Mad Men has run, Jon Hamm is going to have a Tom Hanks-level film career, so I don't think he'll be coming back to television anytime soon. Although that would be cool!"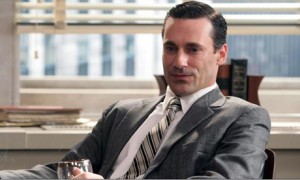 He also confirmed that there are no firm plans in place to introduce Negan just yet.
"As far as Negan casting goes, Scott and I are always talking about who we would put in that, it's definitely on our minds, and there are definitely a lot of candidates," he said.

"But I wouldn't expect Negan too terribly soon, although he is definitely in the plan. It's a 99% lock that he's going to be in the show eventually, so be on the lookout for that."