The Official Charts Company has revealed that Robin Thicke's 2013 hit 'Blurred Lines' is the most downloaded song in UK history.
The tune, which features Pharrell Williams and TI, has sold a staggering 1.54 million copies since being released in May last year; making it one of two songs to ever pass the 1.5m barrier.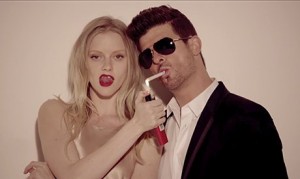 The other song to pull off the feat is Adele's 'Someone Like You', which is a whisker behind Thicke on 1.53 million. Thicke said in a statement: "I'm so honoured, the success of 'Blurred Lines' is a dream come true."
Martin Talbot, the chief exec of the Official Charts Company, added:
"'Blurred Lines' is surely one of the catchiest pop hits of all time, so its success is no great surprise.

"But to become one of only two tracks to have been downloaded 1.5m times and climb to the top of the poll as the biggest download of all time is an incredible achievement."
The third most-downloaded track is 'Moves Like Jagger' by Maroon 5.