Angelina Jolie has spoken out about the script of her new movie Maleficent, in which she plays the villain from the popular Sleeping Beauty fairy tale. The live action film is due for release this month, and in a promo clip Jolie explains that she was a big fan of the character as a kid.
"I loved Maleficent when I was a little girl. She was my favourite Disney character, so when I'd heard that there might be a Maleficent movie I was very excited," she said.

"I was really moved by the script. It was like uncovering this great mystery. It's one of those characters that for me you couldn't half do it."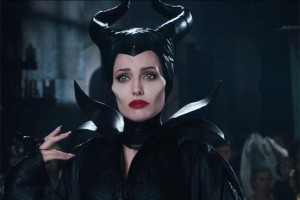 New Doctor Who Peter Capaldi also stars in the film, alongside Elle Fanning, Juno Temple and Jolie's own kids: Vivienne, Pax and Zahara.
It's out on May 28. We can't wait!