Simon Cowell has broken his silence on video footage that showed One Direction stars Zayn Malik and Louis Tomlinson smoking a joint.
The boyband members have come under heavy fire over the last week for the clip, which was first published by the Daily Mail after being filmed in Peru last month.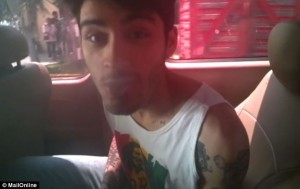 Zayn Malik in the leaked video (Photo: MailOnline/Twitter)
Speaking to Digital Spy at the Health Lottery tea party, Cowell said:
"What I can say is that they're the hardest-working boys I've ever worked with. They still haven't changed. They're really respectful of their fans and they're a great British export. They've been a joy to work with."
He added:
"I've worked with a lot of artists in the past who do lose the plot; who do lose respect for their fans. They've never done that."
Malik and Tomlinson have not publicly addressed the scandal.