One Direction's Zayn Malik and Louis Tomlinson appear to have been caught smoking marijuana.
The boyband members, who are currently on their Where We Are tour, are the subjects of a video posted by the Daily Mail which shows Perrie Edwards' fiance lighting up in the back of a car, while Louis narrates.
Louis can be heard saying:
"So here we are, leaving Peru. Joint lit. Happy days!"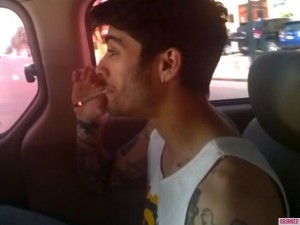 He asks Zayn:
"What do you think about that kind of content?"
The reply:
"Very controversial."
Liam Payne, Niall Horan and Harry Styles are nowhere to be seen in the clip.
The band's reps said:
"The matter is in the hands of our lawyers."